Oyster Sunday 7-30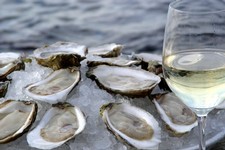 Join us for an afternoon of Oysters & Wine!
Tickets are $10 and includes 2 oysters and a glass of select wine or cider for pairing. Additional oysters and glasses available for purchase.
Ala Carte menu:
Raw Oysters on the 1/2: $2.00 each
Grilled Oysters with Pesto & Parmesan: $2.50 each
Wines include Sauvignon Blanc, Chardonnay, Rosé, two white blends, and a couple of lighter reds. Other wines available as well.