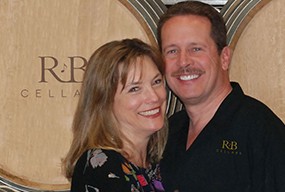 Extraordinary wines in an East Bay Urban setting.
Right on the water with a "front row" view of the San Francisco Bay!
Imagine discovering a wine that sang to you with astonishing harmonies; a wine that was not just a beverage, it was an experience. That is wine by R&B Cellars. Artistically handcrafted by winemakers and musicians Kevin and Barbara Brown, R&B Cellars' wines are created with the same passion that the Browns bring to their performances and with the same goal: to delight you with something extraordinary. Each wine has its own musical name and a beautiful, musically inspired label. Our wines go beyond taste to provide a sensational experience in every glass.
Where can you experience all this? Come to the Riggers Loft, R&B's brand new winery and tasting room in the historic Port of Richmond, right next to beautiful downtown Point Richmond. Soak up extraordinary views of the San Francisco Bay while sipping on lovingly made, award-winning wines. You can expect live music frequently, and may even be serenaded by the winemakers!
PLEASE NOTE: The Tasting Room will be opening the first weekend in March.
Tasting Room: 510-233-2065