tasting room - riggers loft wine company
Come to the Riggers Loft Wine Company in Richmond, CA.
Come to where great wine mingles with delicious food, where folks can relax with friends, and where it all comes together for the most amazing view of the San Francisco Bay!
Live music on Friday evenings, and often on Saturday.
Enjoy artisan, hand-crafted wines in a historic World War II building.
Soak up an unparalleled 270-degree view of the San Francisco Bay. (We're a stone's throw from the Bay.)
Pair your wine with some great live music!
A Wine Collective: The Riggers Loft Wine Company is home to R&B Cellars, as well as our resident wineries: Carica Wines and Irish Monkey Cellars, and our resident "Cider Man" - Far West Cider Company. (Far West's ciders will be available soon in the tasting room.) Choose from several different flights of wine. Or let us help you create a personalized flight. Pair your wines with a delicious cheese plate. Or choose from Paul's "Street Eats" - our resident food truck purveyor.
Live Music: On Fridays, pair your wine with some mellow jazz featuring outstanding local talent.
Regular live music on Saturdays is coming soon.
Trivia: Thursday night is Quiz Night! Come at 6:30pm for team assembly, the fun starts at 6:45pm.
Tasting room hours - to start:
Thursdays: 4-9pm (Quiz Night - teams form at 6:30, the fun starts at 6:45pm)
Fridays: 4-9pm
Saturdays: 12-noon to 9pm
Sundays: 12-noon to 6pm

Wine flights:
Choose from three different flights. Or mix and match - it's your choice.
$10 for a flight of wines.
Or, buy your favorite wine by the glass or bottle.
Cheese trays are available for $9.
"Street Eats" - Paul's food truck provides delicious foods, like Smoked Trout Grilled Cheese and Chicken Pita Wraps.
Follow us on Facebook to stay abreast of the goings on at R&B Cellars — Facebook.com/rbcellars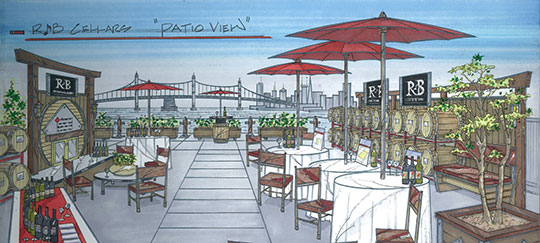 Artist rendering of tasting patio - coming summer 2016
Directions to the winery:
Take the Canal / Garrard Blvd. exit off I-580. Turn onto Canal going towards the bay. Canal Blvd. will take you into the Port of Richmond (you will see a Point Potrero sign overhead). Keep following Canal as it winds all the way around the perimeter of the port. When you can go no further and when the bay is in front of you, you have arrived!
Also, there are winery signs all along the way - above the Red Oak Victory signs.
For hotels nearby, check Hotelscombined.
See you soon!