Holiday Tasting Fee 2019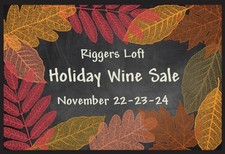 Meet the Riggers Loft Wine & Cider Makers!
Saturday, November 23rd from 1-4pm.
Enjoy a tasting of award-winning wines, champagne and cider from R&B Cellars, Carica Wines and Far West Cider Company. Choose your Thanksgiving wines, do some Christmas or Hanukkah gift shopping, and get your wines, cider and champagne to celebrate the season.
The wine and cider makers will be on hand to help you choose the perfect selection for your holiday celebrations and gifts.
Gift packaging will be available.
Tickets are $15.
No fee with bottle purchase.
Free for wine club members!