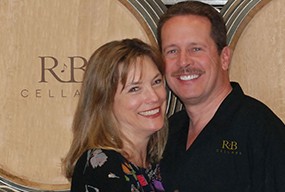 An Urban Winery by the Bay:
R&B Cellars at...
Riggers Loft Wine Company
A "front row" view of the San Francisco Bay!
Imagine discovering a wine that sang to you with astonishing harmonies: a wine that was not just a beverage but an experience. That is wine by R&B Cellars. Artistically crafted by winemakers and musicians Kevin & Barbara Brown, R&B Cellars' wines are created with the same passion that they bring to their music, and with the same goal: to delight you with something extraordinary. Each wine has its own musical name and a musical painting on the label by artist Mimi Stuart.
Where can you experience all this?
Come to Riggers Loft Wine Company, R&B's winery, tasting room and wine bar in the historic Port or Richmond, right next to beautiful downtown Point Richmond. Soak up extraordinary views of San Francisco while sipping lovingly made, award-winning wines. Enjoy live music by talented Bay Area musicians on Fridays, Saturdays and Sundays.
Riggers Loft Tasting Room Hours:
Thursday 5-8pm
Friday 5-9pm
Saturday 1-9pm
Sunday 1-7pm
RESERVATIONS: https://eatapp.co/reserve/r-b-cellars-80d1
Kitchen Loft - Chef Frank Miller

Chef Frank offers a delicious variety of food for pairing with your wine as well as a full lunch and dinner menu: Wood fired pizzas, sliders, burgers & frites, poke tacos, salads. Using fresh, local ingredients, the menu is always fresh and exciting. Chef can adapt most of the menu to accommodate vegetarians and gluten free requirements.

Click here to view the entire Riggers Loft Menu
Thursdays and Fridays from 4-7pm
S