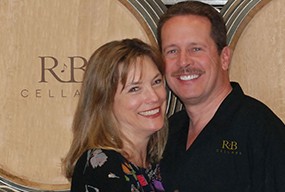 An Urban Winery by the Bay:
R&B Cellars at...
Riggers Loft Wine Company
A "front row" view of the San Francisco Bay!
Imagine discovering a wine that sang to you with astonishing harmonies; a wine that was not just a beverage, it was an experience. That is wine by R&B Cellars. Artistically handcrafted by winemakers and musicians Kevin and Barbara Brown, R&B Cellars' wines are created with the same passion that the Browns bring to their music and with the same goal: to delight you with something extraordinary. Each wine has its own musical name and a beautiful, musical painting on the label by Artist Mimi Stuart. Our wines go beyond taste to provide a sensational experience in every glass.
Where can you experience all this?
Come to Riggers Loft Wine Company, R&B's winery, tasting room and wine bar in the historic Port of Richmond, right next to beautiful downtown Point Richmond. Soak up extraordinary views of the San Francisco Bay while sipping on lovingly made, award-winning wines. You can expect live music frequently, and may even be serenaded by the winemakers!
Riggers Loft Tasting Room Hours:
Wednesdays: 5 - 8pm
Thursdays: 4 - 9pm
Fridays: 4 - 10pm
Saturdays: 6 - 8pm
Sundays: 1 - 7pm
Holiday Schedule: We will be closed:
November 27th and 28th
December 25th and January 1st
When life gets strange and your favorite tasting room has to close, we have your back!