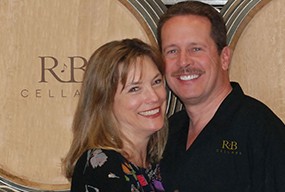 An Urban Winery by the Bay:
R&B Cellars at...
Riggers Loft Wine Company
A "front row" view of the San Francisco Bay!
Sadly, our tasting room continues to be closed during this pandemic. We miss you all terribly and cannot wait till we can safely reopen our doors to our tasting room.
In the meantime, we have opened Riggers Loft in a "store" capacity three days a week. When you come through the front door, please stop and use our hand washing station and wash your hands thoroughly. Please wear a mask. We will do the same.

STORE HOURS LOCAL DELIVERY FREE SHIPPING IN CA!
Thursday & Friday: 3-5pm Do you live within 40 minutes drive Buy 6 or more bottles of wine
Saturday: 5-7pm of the winery. We are offering free delivery and we'll ship your wine for
for a purchase of 6 or more bottles free.
of wine.