2013 Zydeco Zinfandel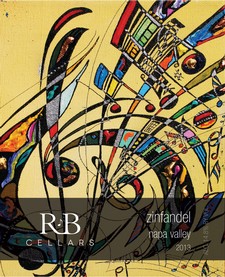 From the beautiful Bingham Ranch on the floor of Napa Valley just outside of Calistoga, this wine is typical of a Napa Zinfandel - dark, rich, and intense! Blackberries and dark black cherries greet your senses in this rich, extracted wine. The brand new French oak the wine is lovingly aged in is the perfect compliment to the fruit, adding hints of chocolate and toasty vanilla tones and exotic spice in the finish. The wine starts with an initial explosion of black fruit, and then opens layer upon layer of rich fruit and spice, to a long and mouth filling finish.
Vineyards: Bingham Ranch is one of the oldest vineyards in the Napa Valley and has a history of producing award winning wines. It has been in the same family since the mid 1800's, homesteading times, and was planted with vineyards in the 1950's. The zinfandel was planted in the 1980's, and is on the northern edge of the ranch. It is a small berry clone that benefits from extended hang time for optimal ripeness.
The Wine: Harvested in late October, the zinfandel from Bingham Ranch was perfect! Fruit was hand sorted, and then crushed and de-stemmed into three-quarter ton macro bins. A three-day cold soak was done before fermentation. Hand punched down twice a day during fermentation and then gently pressed off and put into 100% French oak barrels. The wine was racked four times while aging in barrels, and then lightly filtered for bottling.
Vineyards
100% Bingham Ranch, Napa Valley, Zinfandel
Composition
98% Zinfandel, 3% Petite Sirah
Bottled: December 2018
Released: March 2019
Production: 450 Cases
Awards
2019 Somelier's Choice Awards - 86 points - Silver Medal
Product Reviews
Erica Karl
(Oct 16, 2020 at 1:39 PM)
Love it
Debbie Christy
(Feb 5, 2022 at 7:12 PM)
Club Pack standout!! I imagine I've had this wine before but this t8me ot stood out - total YUUUM!! Must be the egg whites fining process. Whatever it is/was, this wine is dark fruit forward and ever-so-yummylicious!!