2012 Pizzicato Petite Sirah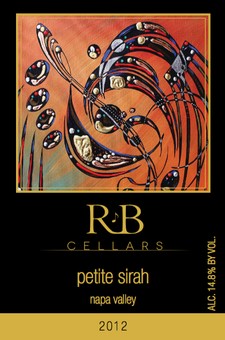 This Petite Sirah is dark, powerfully flavored, and intense. The flavors of blueberry, black currant, and dark plum tones explode and then resonate in your mouth. This wine luxuriated for 48 months in 100% French oak, allowing the perfect amount of time in barrel to fully integrate with the complex flavorings of the French oak. We then moved the wine to neutral oak barrels to finish the gentle aging process.
One moment, there's dark chocolate enticing your senses, then some exotic spice moves in and dances on your tongue. As the name Pizzicato denotes, this wine has lots of "pluck" - so you better be ready for some serious wine. In matching with food, big flavors only need apply!
Vineyards: Bingham Ranch is one of the oldest vineyards in the Napa Valley. It has been in the same family since the mid 1800's, homesteading times, and was planted with vineyards in the 1950's. The Petite Sirah was planted in the 1980's, and is on the northern edge of the ranch. It is a small berry clone that benefits from extended hang time for optimal ripeness.
The Wine: Harvested in mid October in perfect conditions, then hand sorted, and crushed and de-stemmed into half ton macro fermenting bins. A three-day cold soak was done before fermentation. Hand punched down twice a day during fermentation and then gently pressed off and put into 100% French oak barrels. The wine was racked four times while aging in barrels, and then lightly filtered for bottling. 3% 2012 Zinfandel was added in the final blend to soften the edges.
Vineyards & Composition
Vineyards
100% Bingham Ranch, Napa Valley
Composition
97% Petite Sirah
3% Zinfandel
Bottled: March 2018
Released: April 2018
Production: 110 Cases
Product Reviews
Trudy Swanson Schreier
(May 15, 2018 at 7:06 PM)
We received the 2012 Pizzicato in our recent Wine club shipment. It was so delicious we wished we had a case... and so we are ordering more.
Trudy S Schreier
(Jul 3, 2019 at 8:15 PM)
This wine made us stand up for an ovation.. twice. We exclaimed WOW. The first nose reminds me of a freshly made jar of preserves my grandma was famous for. The 2nd was for the chocolate that hung in our midst like the best Christmas ever. The 3rd was like dessert that everyone rushes for and wishes for more. Savory. Send me a case.
Debbie Christy
(Aug 8, 2020 at 6:49 PM)
This wine was in my club pack, which I know I must've had before but this time it was good on day 1 and extraordinary on day 2!! Ain't nothin petite about this wine - soooo big and bold, jammy and full bodied - just how I like my reds!! I see more bottles of this lusciousness in my future!!