2021 Portamento Pinot Noir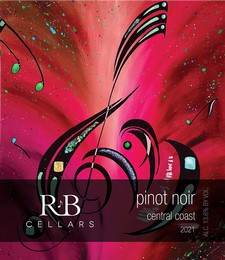 The Central Coast is renowned for its fine Pinot Noir vineyards. Our Portamento Pinot Noir, our first venture into Pinot, is a perfect reflection of that reputation. Fermented in 100% stainless steel to retain the bright, red fruit flavors and aromas, this wine was then aged for 12 months in a combination of stainless steel and French Oak. The result? Aromas of ripe berry and plums with hints of white pepper, and complex flavors of dark cherry, vanilla, and baking spices, with just a subtle hint of strawberry rhubarb piel The tannins are soft and refined. A perfect companion to salmon, ham of asado tacos.
Product Reviews
Debbie Christy
(Feb 11, 2023 at 2:24 PM)
This is a new wine for R&B and was included in our recent club pack. This wine was absolutely delicious - very mild, yet impactful fruit with all the wonderful flavor and characteristics of a Pinot, and then some!! My only question is, what took you so long?!! But, it was soooo worth the wait!!