R&B 2012 Minuet in Merlot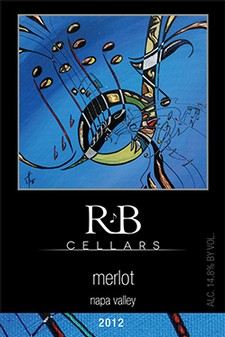 We want you to sing and dance a minuet when you taste our Minuet in Merlot. It is from Bingham Ranch in Napa Valley where the weather is perfect to produce little Merlot gems. This "minuet" sings of blackberries and ripe, black cherries and juicy blueberries. 2% of our Reserve Cabernet adds further depth and intensity. Rich, juicy and beautifully balanced. The wine starts with an explosion of black fruit, and then opens layer upon layer of rich fruit and spice, to a long and mouth filling finish.
Vineyards: Bingham Ranch is one of the oldest vineyards in the Napa Valley. It has been in the same family since the mid 1800's, homesteading times, and was planted with vineyards in the 1950's. The merlot was planted in the 1980's, and is on the northern edge of the ranch. It is a small berry clone that benefits from extended hang time for optimal ripeness.
The Wine: The Merlot fruit was harvested in late October - the weather was perfect. It was hand sorted, then crushed and de-stemmed into half ton macro bins. A three-day cold soak was done before fermentation. Hand punched down twice a day during fermentation and then gently pressed off and put into 100% French oak barrels where it was aged for 2 1/2 years. The wine was racked four times while aging in barrels, and then lightly filtered for bottling. Additional aging in bottle for 2 1/2 years.
Vineyards & Composition
Vineyard
Bingham Ranch, Napa Valley
Composition
98% Merlot
2% Cabernet Sauvignon
Bottled: April 2014
Released: October 2017
Production: 112 Cases
Awards
Double Gold Medal - 2018 San Francisco Chronicle Wine Competition
Product Reviews