2017 Roulade en Rosé
Rosé of Mourvedre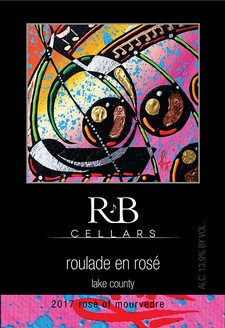 From the lovely Lovett Vineyard on the hillside of Clear Lake in Lake County hails the Mourvedre that we lovingly turn into our Roulade en Rosé. Once crushed, we allow the juice to stay on the skins slightly longer than most CA Rosés do. We love how it results in a bigger, bolder Rosé with a slightly darker color than is typically seen - like a light Ruby gem stone. Made in a traditional French Rosé style, it boasts of the flavors of caramelized strawberries, Montmerency cherries and is balanced by a delightful mineralité. Being a Rosé of Mourvedre, it takes on a more complex character and structure. As one of our wine club members says "It's a red wine lover's Rosé."
Product Reviews
Michael Mendonca
(Aug 3, 2018 at 7:30 AM)
Wow...depth, fruit, refreshing, although while I wouldn't Sat it was sweet per se', it kind of reminds me of a sangria. Loved the wine.