Valentine's Day Flowers & Bubbly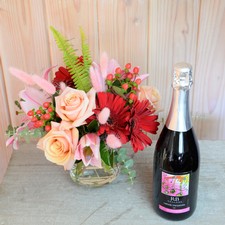 A gathering of seasonal blooms in romantic colors that are placed in a clear glass vase and ready to brighten up any space, and says "I Love You!" From Katharina Stuart Floral Art + Design.
Paired with a delcious bottle of R&B Cellars Methode Champenoise. You choose Brut-style or Rosé.
When checking out scroll down to "Order Notes" to make your choice between Brut-style and Rosé.
Local East Bay Sales only: This is for local pick-up at Riggers Loft Wine Company on Saturday, February 13th.
Free Delivery: Or choose to have your flowers and bubbly delivered: Local deliveries only: Richmond, Albany, Kensington, Berkeley, Pinole, San Pablo and El Cerrito.
Rosé Methode Champenoise:
This delicious sparkling Rosé, made in the traditional Methode Champenoise style, is made from a combination of Chardonnay and Pinot Noir from Clemente Hills in Lodi. Each sip is like biting into a handful of berries.....strawberries, raspberries. With tiny bubbles, this bubbly is a classic Brut style but with a lovely softness and a delightful approachability.
Methode Champenoise "Chanson des Etoiles" (Brut-Style)
Our "Chanson" is made from 100% Chardonnay from Clement Hills in Lodi. This bubbly is both vibrant and soft with a luscious fruit presence. It is designated Extra Dry, but it is much more of a Brut Nature lover's bubbly. Tiny bubbles, bright and crisp, with just the right amount of fruit and creaminess to balance the crisp acidity.